Independent Study (I.S.) is a graduation requirement at The College of Wooster. Each student completes three semesters of research supervised and mentored by a Wooster faculty member. In the Geology Department this almost always includes field and laboratory work in the summer between the junior and senior years as well. My most recent I.S. students are introduced below, along with their projects.
2016-2017 (coming soon!)
2015-2016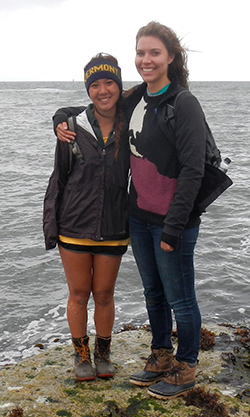 Mae Kemsley (left) and Meredith Mann (right) did their Senior Independent Study research on the coast of Yorkshire in the summer of 2015. Mae worked with belemnites found in the Speeton Clay (Cretaceous), sorting out their paleoecology with carbon and oxygen isotopes. Meredith studied a Jurassic section at Filey Brigg, the tip of which they are standing on here. She collected rocks and fossils from the Passage Beds to see how the communities changed with sea level fluctuations. She also did a bit of isotope work.
2014-2015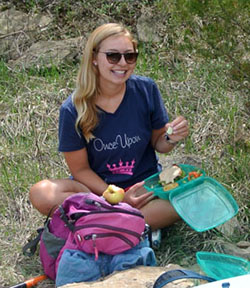 Sarah Bender spent a lot of time underwater for her Senior Independent Study research. She worked on a Keck Geology Consortium project in Belize doing lots of diving on spectacular coral reefs. Her title: "Grazer Dynamics on a Relict Acroporid Patch Reef System and Their Implications for the Carbonate Budget at Coral Gardens, Belize". She also had an earlier research experience in The Bahamas.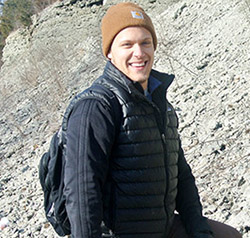 Coleman Fitch did his Senior Independent Study work in the beautiful Cincinnatian Group exposed around the tri-state area of Indian, Kentucky and Ohio. His title: "Macroborings and Their Relationship to Encrusting Bryozoans on Brachiopods and Bivalves from the Upper Ordovician of the Cincinnatian Group".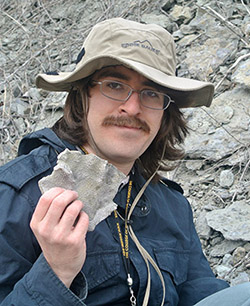 William Harrison also centered his Senior Independent Study project in the Cincinnatian Group, with a fascinating summer experience doing experimental bryozoology at a marine lab in Panama. His title: "The Symbiosis Between Bioclaustrated Organisms and Their Host Bryozoans in the Late Ordovician".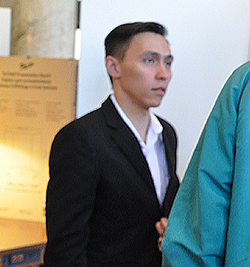 Ian Tulungen worked for his Senior Independent Study on a magnificent collection of platyceratid snails and their encrusters from the Silurian of Indiana. His title: "Effects of a Growing Substrate on Secondarily Tiered Cornulitids of the Waldron Shale: Middle Silurian (Wenlockian) of Indiana".
2013-2014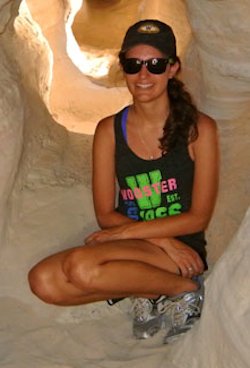 Steph Bosch was a member of Team Israel 2013. Her project was finding and describing the first bryozoans from the tropical Jurassic, working in the beautiful Makhtesh Gadol of southern Israel. The title of her Independent Study thesis is: "First bryozoan fauna described from the Jurassic tropics: Specimens from the Matmor Formation (Middle Jurassic, Upper Callovian) in southern Israel". Her work, which includes descriptions of new bryozoan species, will soon be published in a journal article.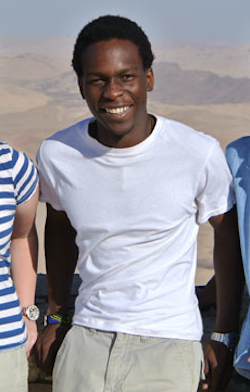 Oscar Mmari was also on Team Israel 2013. He is the first Wooster student to work on the extensive phosphatic units exposed south of Makhtesh Gadol, and the first to do some structural geology. His Independent Study thesis title is: "Syndepositional faulting, shallowing and intraformational conglomerates in the Mishash Formation (Upper Cretaceous, Campanian) at Wadi Hawarim, southern Israel".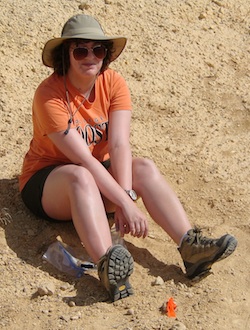 Lizzie Reinthal was the third member of Team Israel 2013. Like Steph, she worked in the Jurassic of Makhtesh Gadol, in her case examining the taphonomy of crinoids. Her I.S. title: "Taphonomic feedback and facilitated succession in a Middle Jurassic shallow marine crinoid community (Matmor Formation, southern Israel)". Part of her work, including a description of a new crinoid species, will be published in an upcoming issue of the Journal of Paleontology.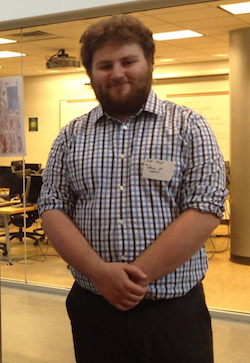 Scott Kugel was part of a Keck Geology Consortium team for his thesis work, so I have no images of him in the field. His I.S. is titled: "Discerning extreme weather events in the Connecticut River system through the study of sediments in upland dams and flood control reservoirs of western Massachusetts and southwestern Vermont".
2012-2013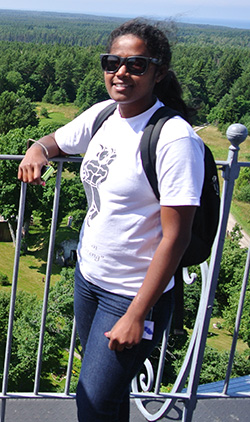 Richa Ekka did her Independent Study fieldwork in Estonia, mostly on the western island of Saaremaa. Her I.S. title is: "Stratigraphy and paleoenvironments of the Soeginina Beds (Paadla Formation, Lower Ludlow, Upper Silurian) on Saaremaa Island, Estonia". She specialized in hypersaline depositional environments and shallow-water dolomites. The high point of her fieldwork was finding a complete eurypterid.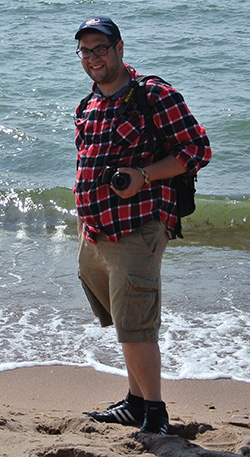 Jonah Novek also worked in Estonia, primarily on the island of Hiiumaa. He especially enjoyed shallow marine invertebrate communities of the Silurian. His I.S. title: "Analysis of a Rhuddanian (Llandovery, Lower Silurian) sclerobiont community in the Hilliste Formation on Hiiumaa Island, Estonia: a hard substrate-dwelling recovery fauna". Jonah's brachiopod-rich communities are among the earliest in the Silurian — soon after a major mass extinction.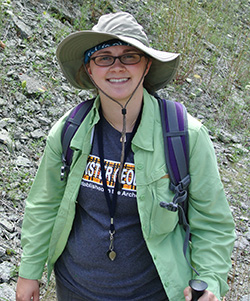 Kit Price's Independent Study project involved sclerobionts from the Upper Ordovician of the Cincinnati region. The title of her I.S. was: "Upside-down and inside-out: Cryptic skeletobiont communities from the Late Ordovician of Ohio, Indiana, and Kentucky". She carefully mapped out the growth of sclerobionts such as bryozoans and cornulitids that grew inside mollusk shells.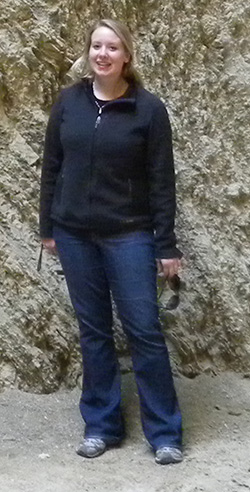 Melissa Torma did her fieldwork in southern Israel in the middle of the Negev during the 2012 Spring Break. Her I.S. title: "Patchiness and ecological structure in a Middle Jurassic equatorial crinoid-brachiopod community (Matmor Formation, Callovian, southern Israel)". Her worked helped sort out the brachiopods of this diverse fossil fauna for a later paleoecological analysis.
2011-2012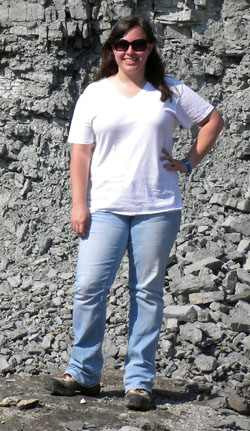 Rachel Matt's I.S. project was entitled: "Paleoecology of the Hilliste Formation (Lower Silurian, Llandovery, Rhuddanian) Hiiumaa Island, Estonia: An example of a shallow marine recovery fauna." She traveled with me and Nick Fedorchuk (below) to Estonia in the summer of 2011. She specialized in the invertebrate fossils (primarily brachiopods, corals and stromatoporoids) found in the lowest Silurian exposed on the little western Estonian island of Hiiumaa. You can see Rachel and Nick all cleaned up for their GSA poster presentations on the Wooster Geologists blog.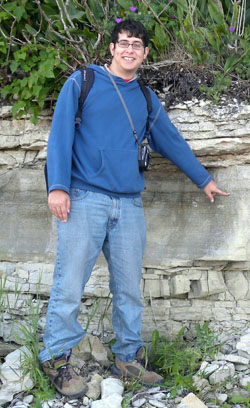 Nick Fedorchuk's I.S. project was: "Stratigraphy and paleoecology at the Wenlock/Ludlow Boundary on Saaremaa Island, Estonia." He worked on the larger western Estonian island of Saaremaa doing a centimeter-by-centimeter analysis of a critical boundary section. Nick's work required much detailed petrography of limestones and dolomites with thin-sections. Our essential Estonian colleague and friend on these projects was Olev Vinn of the University of Tartu.
2010-2011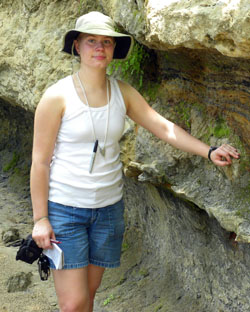 Megan Innis traveled with me to Alabama and Mississippi in the summer of 2010 where we met our friend Paul Taylor (Natural History Museum, London) and Caroline Sogot (Cambridge University) for fieldwork at the Cretaceous-Paleogene boundary.  We found sclerobionts preserved on shell surfaces before and after the mass extinction which became the basis for Megan's work and a Geological Society of America presentation. Megan showed that some borings, such as those by sponges, were virtually unaffected by the extinction event. Others (notably bivalve borings) changed distribution dramatically.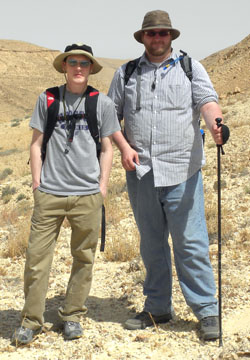 Andrew Retzler and Micah Risacher went with me to Israel in the summer of 2010 to study Upper Cretaceous fossils and rocks in the Negev Highlands.  Andrew concentrated on shark teeth in the Menuha Formation, and Micah worked on the invertebrate fossils in the Zihor Formation.  Their work also resulted in two GSA presentations (Micah, Andrew), and Andrew and I have recently had a manuscript on the fossil shark teeth accepted in Cretaceous Research. Our excellent Israeli colleagues and friends are Yoav Avni and Amihai Sneh of the Geological Survey of Israel.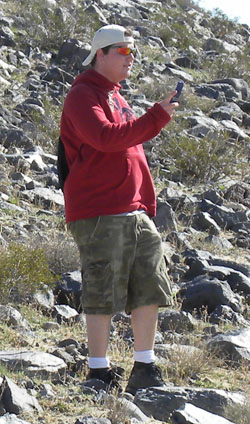 Michael Snader closely studied a new core drilled through the Black Hand Sandstone (Lower Carboniferous) in northeastern Ohio to sort out depositional facies and history.  A complete core like this is rare for this interval, so his work has considerable significance.
2009-2010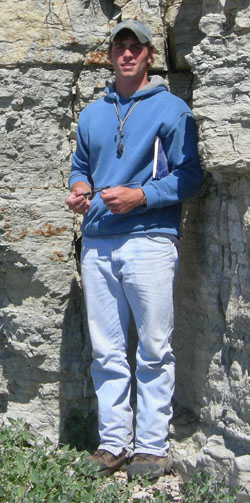 Rob McConnell and Palmer Shonk studied Silurian rocks and fossils with me and our colleague Bill Ausich (Ohio State University) on the beautiful island of Saaremaa in Estonia. Rob did a paleoenvironmental analysis of the Jaani Formation (Wenlock), concentrating on the Mustjala and Ninase members at three sites along the northern Saaremaa coast:  Liiva Cliff, Suuriku Cliff, and Panga Cliff.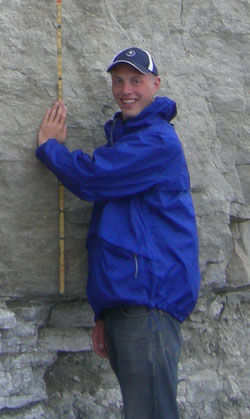 Palmer worked on a paleoenvironmental reconstruction of the Äigu Beds (Pridoli) in the Kaugatuma formation on the Sõrve Peninsula of southwestern Saaremaa. He described a complex crinoid forest in a high-energy limestone sequence.
2008-2009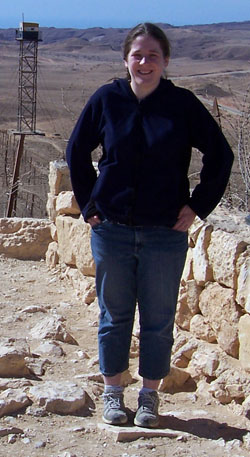 Elyssa Belding (now Elyssa Krivicich) traveled with me to the Negev Desert of southern Israel to continue a long-term project on Jurassic stratigraphy and paleoecology. Among many accomplishments, she helped put together the first complete stratigraphic column of the Matmor Formation as part of her thesis.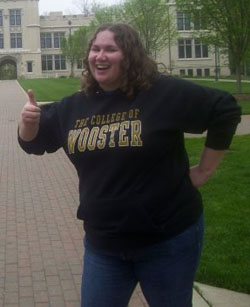 Heather Hunt was the first student in 25 years to return to the Logan Formation (Lower Carboniferous) exposed in Wooster to assess its paleoecological and sedimentological history.  She took advantage of a new series of roadcuts and found a wonderful array of fossils, most of which would be familiar to generations of Wooster geology students who visited the "Little Arizona" outcrop (which is now long gone).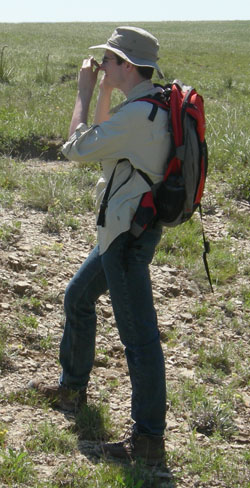 John Sime went with me and our colleague Paul Taylor (Natural History Museum, London) to investigate the taphonomy of sclerobiont communities in Late Cretaceous baculitid conchs preserved in the Pierre Shale of South Dakota, Wyoming and Montana. We found very interesting preservational patterns which may be related to the unusual water chemistry of the Western Interior Seaway at the time.
More students will be added to this section with time. I won't be able to cover the full thirty years of my wonderful I.S. students, though! I'm proud of each and every one of them.